I must have walked by William Scott at least 20 times over the past two years heading towards my seat in section 107 at the New Orleans Pelicans games. Each time, William greeted me with a smile and positive vibe. His optimism was contagious, as if to reassure me that we'd win each game. One day, I finally took a moment to introduce myself and thank him for the energy he brings to our section.
During this past Mardi Gras, some good friends invited me to attend the Knights of Babylon Mardi Gras ball, a black tie affair. The ball didn't start until 11 PM and there was a Pelicans game at 7. It happened to be the first home game to welcome DeMarcus "Boogie" Cousins to New Orleans, so I decided it would only be appropriate to rock a tuxedo at the game before walking over to the ball. While heading to my seat like normal, however this time sporting a tuxedo, I captured William's attention for a moment. He gave me his usual warm welcome and loved the tux. After the ties made earlier in the week with Dorian and Pat, something about William hit home strong. We needed to take a selfie. We grabbed Charles who works with William and shared this special moment: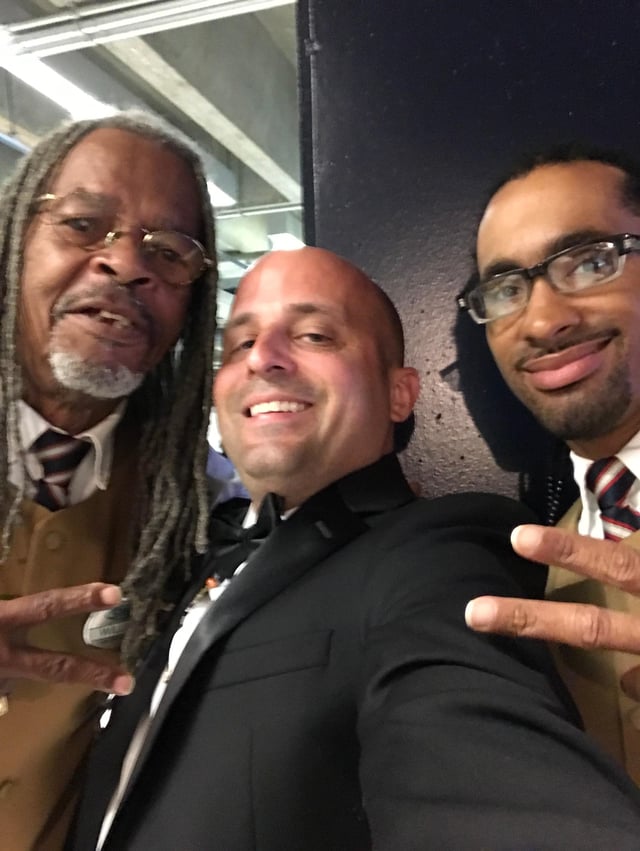 William immediately asked me to send this photo to him, and this exchange turned into arranging a time to grab lunch in the French quarter at SoBou. William's face lit up as I explained The Magic Hour to him. You see, I had no idea what William's backstory was, but the day before our lunch meeting, we connected on Facebook and I noticed this message in his "About" section: "Loving life and every living thing, my gift, tools of thought, only to uplift and inspire, truest".
William was put on this planet to inspire. His gift takes the form of his pen and his poetry. William's interview taught me some incredible lessons, most importantly "just be you, everyone else is taken". Each and every one of us has unique gifts we bring to the world. This episode is dedicated to the people in life we may walk by hundreds of times without ever fully understanding their stories or their gifts.
As campus tour guides, it is easy to get stuck in your own heads stressing about what to say to prospective students and families. If you ever need a reminder any time of the day, just watch this episode with William and remember that it is ok to just be yourself.