Many different factors came together in 2014 to inspire Welcome To College's relocation to New Orleans. One the most unique and wise individuals I met during this time was Dr. Charles Mary. I was a participant in the Idea Village IDEAx program, and was fortunate to meet Dr. Mary's daughter Mignonne Mary through this experience. Mignonne is the founder of the Remedy Room, an IV hydration and wellness clinic. She and her husband, Doug Hammel, became incredible friends of mine and helped familiarize my family and me with New Orleans.
In fact, once Mignonne heard I was staying in hotels and Airbnb's while still in the process of moving to the city, she suggested I stay in her parents' place, as they had a few spare bedrooms and would love the company. I took Mignonne up on this offer, and for three days in October of 2014, I stayed with Dr. Charles Mary and his wife Lynn at their home in the Garden District.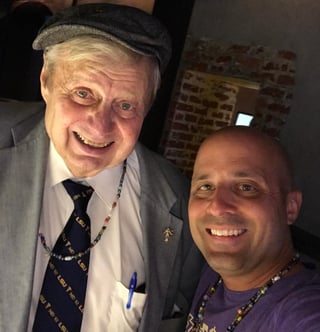 One night I came home from a full day of meetings around 9pm to see Dr. Mary still up watching TV. He treated me to a glass of wine, and we started to talk. I lost track of time as he shared some of the most incredible stories of New Orleans. These were stories about his time working as director of Charity Hospital, about Mardi Gras, about his family, and about his love for New Orleans. It was a magical evening that I will never forget. I just wish I had captured our conversation on camera.
Launching The Magic Hour gave me a unique opportunity to invite Dr. Mary to narrate a few of the stories he had told that evening in October. His devotion to this city inspired me and gave me an entirely new perspective of what it means to be a New Orleanian. That evening we spent together, he became an ambassador of New Orleans to me. Granted, we didn't walk around a campus for an hour. However, as we sat in his living room, I felt more connected to this city than I thought would ever be possible. I'm beyond grateful for the many people who helped make my family's transition to this incredible city so seamless, but my connection with Dr. Mary is one I will always treasure.