Over the past few months, I've spent time interviewing fascinating people I've recently met in New Orleans on the topic of human connection. We called the series The Magic Hour to represent the dual purposes of these conversations. The Magic Hour, that one hour a campus tour guide gets to spend with prospective students to potentially change their lives forever. The Magic Hour, sitting down with people to engage in a meaningful conversation for one hour to showcase the power of human connection.
I had zero expectations for creating The Magic Hour web series. In fact, I had no idea if anyone would actually be willing to meet me for lunch and be filmed. However, after week one, I knew we were onto something special. As I begin to reflect on the recent series, here are 5 skills to help train your campus tour guides this fall, straight from the mouths of the people who make New Orleans such a magical city.
5. Remember Your Roots
In Episode 4, Jonathan Johnson shares the story behind creating a new charter school in New Orleans called Rooted School. The story of how they came to name the school hits on a key point for campus tour guides. Remember your roots, start the tour by sharing your story of how you landed at your particular institution. Share stories during the tour that bring out the historical roots of the institution as well, and why this university exists. In his advice to tour guides, Jonathan, a former tour guide at Chapman University, provides a powerful framework: Story of Me, Story of Us, Story of Now. Watch the entire interview here.
4. Be a Cultural Torchbearer
Caroline Thomas shares her work of painting Mardi Gras floats in Episode 7, and she delivers one of the most powerful lines of the season about being a cultural torchbearer. This strikes a chord because in essence, student ambassadors are cultural torchbearers for their particular institutions. You are carrying the torch for engaging and connecting with students who will not only be the future of the institution, but also carry on the key elements of the culture that make your community unique. New tour guides should be trained in articulating campus culture before they hit the ground running.
3. Tour Like Nobody's Watching
Saint Vader, a New Orleans street performer, gives some great insight in Episode 5 about dancing like nobody is watching. I believe that as a tour guide, you should tour like nobody is watching as well. Get completely engaged and absorbed in your visitors. Of course stay aware of your surroundings and environment, but dedicate complete focus to the task at hand, giving the best tour you can possible give for the visiting families. Engaging yourself fully with families will be felt by all and leave a lasting impression on the visitors.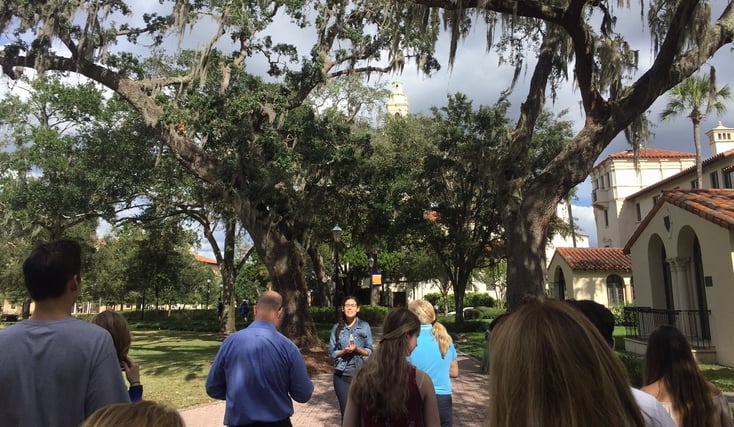 2. Be You
William P. Scott, an usher for the New Orleans Saints and Pelicans, delivers one of the best one-liners from the season in Episode 3. When asked to give his advice to campus tour guides, he says, "Be You, everyone else is taken." It is so simple and yet so important. Please, don't tour me around like a robot, don't give me the scripted hour-long experience. Give me you: your stories, your passion, your love for your institution and why.
1. Smile
There was no better way to kick off the series than with guest Dorian Gray-Alexander, a member of the 610 Stompers dance crew. An incredible ambassador for the city of New Orleans, Dorian lives with a zest for life that all of us can learn from. His advice for tour guides in Episode 1 left me fired up. He knocked it out of the park with a very simple, but essential answer: the all-important skill of smiling. Your smile at the start of the tour, even before you ever speak a single word, sends an incredibly powerful message. Keep using it throughout the experience as well and don't be afraid to look right at the visitors while you share this smile to continue to keep them engaged. If you need a good example of this, please watch Dorian in action as a 610 Stomper during Episode 1, I promise you reason to smile.
Have a blast this fall training your student leaders. Subscribe to The Magic Hour on YouTube and follow the series on Facebook and Instagram for the new episodes coming this fall. Please comment on other skills you would include or how you train to kick off the year. As our ambassador management community continues to grow, please reach out if we can help in any way!