In this series, Welcome To College is celebrating college senior ambassadors who never had the chance to give their last campus tour. Today we celebrate Kevin Mondlane from the University of Tampa.
Where are you from?
I hail proudly from the city of Maputo, Mozambique, in southeastern Africa.
Can you share a little about your college search and how you decided on the University of Tampa?
My entire college search experience was virtual and online, right from the comfort of my home in Mozambique! Naturally, I was not able to do campus tours anywhere in the U.S., so it was predominantly through the Common App and individual college websites. It was during my gap year in 2015, so I had ample time to do research, and I stumbled upon the University of Tampa along the way, and I particularly remember never having even heard of the city of Tampa before! The UT website and the research I did on the school and the city really impressed me, and I was surprised that it was the first time I caught wind of any of it. The international counselor, Jaini Chhaya, was one of the first counselors to reach out to me with a swift decision, and despite only having some offers and still waiting to hear back from others, I committed fairly early in 2016. It was a gut feeling that I just intuitively followed in retrospect! The strength of the business school, the size, and the diversity ended up being the vital factors.
Was Tampa an immediate "fit" or did it take some time to adjust? If so, what was that process like?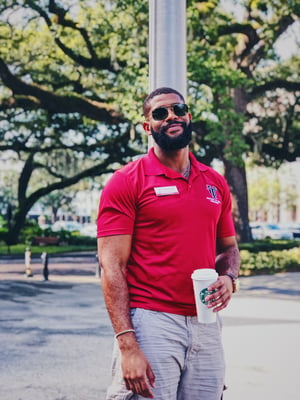 It was certainly a period of adjustment when I arrived, especially that first semester in Fall 2016. Ultimately, the only prior taste of the American culture that I had was a two-week family vacation to the Sugarbush skiing mountains in Vermont, back in 2011, which really wasn't much to go on! As such, getting acclimatized to the food, the different way of interacting with people, meeting people who had no idea where I was from; all these things were a shock to the system at first. However, I was aware, even back then, that it was a natural process, so it did not weigh me down too heavily. I knew it was a fit specifically when I joined Club Soccer (my sport of passion) in my first semester, which I have subsequently been a part of since. It introduced me to a large number of fellow international students with more experience and know-how at UT, which really helped me put things into perspective. I was also fortunate to get placed in a double room with only one other person, as opposed to a Jack & Jill style room. My roommate, a kind, quiet guy from Connecticut, was someone I clicked with fairly well, especially over our love of basketball and LeBron James, so we stayed active through that as well. Having these strong social bonds early on allowed me to feel more comfortable to move forward and flourish.
What are some of your favorite things about the school? About the city? What would you tell others who are still undecided about UT?
My favorite things about the school include the faculty and professors, how active the campus is with student organizations, the small classes, the strength and popularity of club and intramural sports, and the overall diversity within the student body. With regards to the city of Tampa, my favorite aspects definitely include the wide array of food options, the convenience of it being a smaller city and the easy access, the relatively low cost of living, undoubtedly the warm weather year-round, and the multitude of social attractions, ranging from beaches, major sports, frequent concerts, arts, abundance of bars, and much more. In relation, I would encourage someone that is still undecided about UT that it is the ideal place to thrive through different experiences both academically, professionally, and socially, as UT provides a platform to excel in what you already know, and explore areas that you never considered, providing connections that you would never have previously envisioned.
How long have you been an Ambassador? What will you take with you from your experience?
I have been an Ambassador for two years, since the spring of my sophomore year. Bizarrely, on the day that I got my confirmation email that I got the job, I broke my leg on the first night of soccer practice later that night! I subsequently could not walk for the entirety of that semester as I was moving around on a scooter, meaning I only gave my first official campus tour early into the summer. Once I did however, it became one of the most life-changing experiences that I've thoroughly enjoyed until today. The aspects of speaking publicly in front large masses of people with such frequency, the training required to build the expertise of the university as a whole, and most notably, the ability of learning to interact and communicate with such a wide variety of people; they all truly brought me out of my shell and expanded my perspective of things. The ultimate experiences were undoubtedly being selected to travel across the country to hold the annual Admitted Student Receptions, events that were attended by up to 150 families at a time. I was selected in Spring of 2019 and Spring of 2020 respectively, and the ability to travel to cities and states that I never would have been to, such as LA and San Francisco in California, Chicago, St. Louis, the majority of the northeast; those 17 different cities over the 2 years were definitely the pinnacles of my Ambassador experience. It was almost poetic that it proved to be my final experience as a UT student, as the COVID-19 pandemic caused our campus to close right after my final reception in Fort Lauderdale on March 14th.
What did you study? What do you hope to do after graduating?
I studied B.S. in International Business & Finance. Certainly, a rigorous course, but an experience that has provided me with an abundance of real-world skills in knowledge of the financial field. My hope is to gain experience in corporate finance, as well as pursue a career in the financial advisory field. I have thoroughly enjoyed and benefitted from my time in the U.S. as an international student, so I hope to continue that progress over the next couple of years with work experience and a master's degree in the country. However, the end goal is certainly to move back to Mozambique and provide to the community that raised me in the long run.
How have you been impacted by COVID-19? What encouragement can you offer other students facing this uncertain time?
I myself, like millions of my fellow May 2020 graduates, has been affected by this primarily through the monumental addition of uncertainty in the life-after-college conundrum. Personally, I was set to trigger my one-year work authorization with the company I interned for last fall, as they expressed interest in having me full-time in the summer. I then planned to follow that with enrollment into a master's program, likely at UT, in the fall of 2021, However, given that over 22 million jobs have been lost in the last month alone due to this pandemic, my prospective company and many others entered a hiring freeze, and it has adjusted my time-frame of things, so I am considering graduate programs as early as this Fall.
In saying that, the word of optimism that I hope to instill in my fellow students is that this unique challenge represents an opportunity to build our own stories of unique conquer, as a result. This is something that is crippling us globally, so we are all in this together and we should support each other as such, yet we must not get side-tracked from the goal of self-fulfillment and purpose, and this once in a lifetime obstacle may give birth to a journey of self that you could never have imagined. So keep your head up!
Anything else?
In my view, if there is a consistent set of factors in the great stories of achievement throughout history, it is that the greatest of us have always remained open-minded, embraced our failures to subsequently adapt, and forever put the time in to work on our true pursuits. Don't let this knock you down for good, we can always rise!