In this blog series, Welcome To College is celebrating college senior ambassadors who never had the chance to give their last campus tour.
Where are you from?
I am from New York City! (Upper West Side)

Can you share a little about your college search and how you decided on Tulane?
My college search was definitely not as linear as I had imagined. For a long time, I had put all my eggs in one basket, thinking there was only one school for me. At the suggestion of my college advisor though, I applied to more than just the one school. One of those schools was Tulane. At the time, I didn't know much about the school, other than the fact that everyone I knew who went there loved it and that it was in New Orleans, making it the farthest distanced school I would apply to. After being accepted to Tulane, I decided to go for an accepted students weekend and get a feel for the campus. I enrolled in Tulane that day, while still on campus.
Was Tulane an immediate "fit" or did it take some time to adjust? If so, what was that process like?
I took a gap year between high school and college and during that time had a crisis of faith that I had picked a school too quickly or haphazardly. When I got onto campus, I still had that fear. It was gone within a few days. Tulane made my adjustment so easy between my newfound friends and classes I enjoyed. I remembered once again all the reasons I had chosen Tulane in the first place.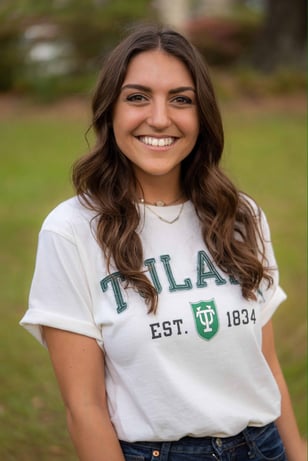 How long have you been a Green Wave Ambassador? What will you take with you from that experience?
I have been a Green Wave Ambassador since my freshman year: it was actually the first group I got involved with! I wanted to be a resource for students who were confused or overwhelmed during the college application experience since I was and going on tours helped give me some clarity. Also, I realized that Tulane had given me things I didn't even know I wanted out of my college experience and wanted to show that to prospective students. I think what I loved most was connecting with my tours. I often felt we would build up a great rapport and I would keep in contact with students struggling with their college decisions. Being a GWA gave me a lot of confidence speaking to large groups, an immense pride in my school, and the ability to walk backward! But in all honesty, whenever I was stressed in school or feeling overwhelmed, I could always trust giving a tour to re-center me.
What did you study? What do you hope to do after graduating?
I studied Political Science with a focus in International Relations. I am hoping to do some policy and advocacy research mainly regarding root issues of human trafficking such as poverty, systemic inequality, gender inequality, and reproductive healthcare. Eventually, I hope to go back to school and get a joint law degree and master's in public policy.
What are some of your favorite things about Tulane? About New Orleans? What would you tell others who are considering the school?
My favorite thing about New Orleans is easy...the festivals! The culture of New Orleans is unlike anywhere else. I love going out and exploring; trying new foods, listening to jazz, and just sitting in Audubon Park across the way from campus. My favorite thing about Tulane is most definitely the relationships I've created. I have incredible, lifelong friends who have seen me through the ups and downs of college. I have supportive professors who even after years of not teaching me, still say hi as I walk through campus. And I have a supportive school community that has helped me gain leadership positions in clubs, find meaningful volunteer opportunities, and challenge my notions of the status quo.
How have you been impacted by COVID-19? What encouragement can you offer other students facing this uncertain time?
Unfortunately, due to the precautions taken by schools around the country, my senior year was unexpectedly cut short. It has definitely been hard to reconcile that many of my "lasts" of college were unknown to me at the time - last meal at my favorite restaurant, last night in with my friends, last time seeing some people I would pass daily on campus. But Tulane has been incredibly supportive for graduating seniors and is making every effort to ensure a commencement ceremony for us and a time to visit our home in Nola when safe to return. I know many students, including graduating high school seniors, are probably feeling the same loss as me. But it just reminds us of how important the little things are in our lives, how we have to savor our memories and celebrate the wonderful times we have had, knowing that the best is yet to come.