Maybe you've experienced or heard of this before: You are traveling outside of the country or far from your home state. Unexpectedly, you see someone you've never met wearing a t-shirt from a 5k race in your hometown or a sweatshirt from the same college you attend – what happens next? Many of you would be inclined to strike up a conversation by asking if they are from your hometown or if they attended your college. Often that connection can spark exciting and lively conversations where you walk away with a smile on your face and a great story to tell. It's sort of like having run into a long lost friend.
Surprisingly, when you lead your campus tours, you have a chance to create a similar dynamic where students and families are excited about meeting you and your institution. Perhaps just as important, you can feel the same way about them.
Recently I was fortunate enough to attend CIVSA's annual Student Development Institute (SDI) and had the chance to present this idea to the group. The message I wanted the group to leave with was this: If you can define your personal values and passions and convey them on tour, you can build relationships that are valued by visiting students and even yourself!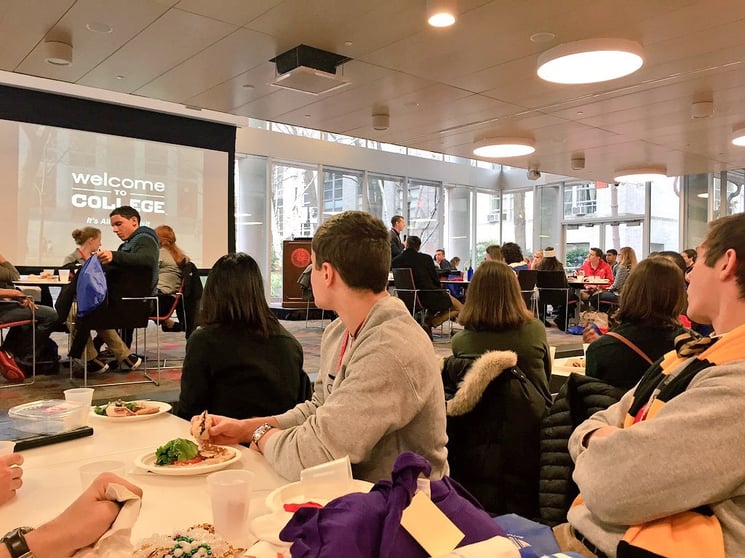 Photo Credit: @SewaneeTim

In an effort to demonstrate how this can work, I opened my presentation with an introduction that wove in the passions, values and relationships that are most important in my life (at Welcome To College, we call these MARV).
Here is where the script got flipped. While I had been so focused on how to convey this message to the tour guides and advisors at SDI, I totally forgot I was opening myself to making the same kind of connections I was advocating!
As a result, I shouldn't have been so surprised when JV Kirkland, from American University, came up to me afterwards with a huge grin on his face and said "Mike, I had to come say hello to you because as I listened to your intro everyone at my table was saying "JV, his life is the same as yours" – and they were right!" Spontaneously, we spent the next few minutes sharing our stories and finding the common threads on our lives. Among our commonalities, we are both from a family of 8 children, have a common link to Dayton, OH and have professional training in fitness and health. I came away from the exchange energized and really happy, and why? It was simply because sharing the meaningful parts of my life allowed JV and me to make a connection based on things that were mutually important in each of our lives. I had just experienced for myself the same benefit that I had been suggesting to the group!
Imagine making a connection on your next tour that leaves you exhilarated, inspired, elated, or thrilled. Share the meaningful parts of your life and how they are reflected at your institution and you might find yourself making a new long lost friend!