A few weeks ago, I travelled to New York City for meetings. While there, I reconnected with a good friend and former tour guide from the University of Vermont, Jessica Kowalewski Dietrich. Jessica currently serves as Regional Admissions Officer for Ithaca College and works closely with the high school students from NYC. Outside of a few updates via social media, it had been many years since our paths had crossed. During this visit, Jessica invited me on a boat ride on the Long Island sound. Always up for an adventure while traveling, I accepted her offer.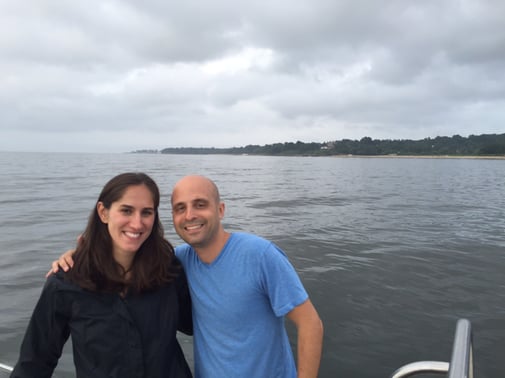 With a forecast showing clouds and rain, I wondered if we'd actually make it onto the water. But after meeting Jessica's husband, Ryan and hearing his passion for riding, I knew we'd be on that boat if there was any window of clear skies. Sure enough we went, and after a few moments on the water, the skies cleared for an outstanding evening. Following a day of hustle and bustle in the city, being outside of it as one of few people on the water was a remarkable contrast of life. As we shared stories from the tour guide days at the University of Vermont, I had an interesting thought: Instead of only featuring current tour guides on the blog, I should include former tour guides in a What are they doing now? way. I've crossed paths with many former tour guides during the past few years, whether friends I toured with at the University of Dayton, students I supervised at the University of Vermont's tour guide program, or current students I have the privilege of training at colleges across the country. Each of their lives have taken different paths after college. Their stories are inspiring and relevant to our audience, so why not share them? Why not start here on the Long Island sound with a Jessica? So I asked her…
What do you love most about your current job?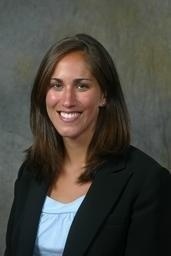 There are so many different reasons why I love working in Admissions, but there is one in particular I can speakof. It stems back to why I returned to working in higher education after a brief stint working in a more corporate position right after college graduation. This would by far be the students! I have never found an environment that is more inspirational than that of a college campus. I have become very attached to that atmosphere focused on learning and self-development, and have never been able to find that environment in an alternative career path.
Describe a typical day in your life?
Part of what makes my position such a fit for me is that every day is unpredictable! In the fall I may visit a few high schools, attend a college fair, and sit down for coffee with an applicant all in one day. In the winter on a brutally cold, snowy day I may be in front of my computer reviewing applications with a hot cup of tea and a blanket over my shoulders, fireplace roaring in the next room. In the spring I may be experiencing that full circle moment and be back on campus welcoming all the accepted students I've worked with over the past few years, helping them make final college enrollment decisions. I've grown to love the cyclical nature of Admissions as it's somewhat predictable given the time of year, but is otherwise keeping you on your toes day-to-day!
How did your role as a campus tour guide impact your career path?
My parents tell me to this day that being an AdvoCat/Tour Guide at UVM helped me break out of my shell. People hardly believe me when I tell them I was very shy and quiet when I was younger. Being a tour guide gave me a foundation and confidence that has contributed to my success. I've also chosen to stay within Admissions as a career which speaks to the positive experience I had being a tour guide. This was my first introduction to the administration within higher education, and its appeal is still with me today.
What advice do you have for prospective college students visiting colleges?
Think about what makes a college your "fit", or what's important for you to learn from a college visit BEFORE the actual visit. There's nothing silly or impractical to consider here. If it's important to you, it's crucial! For some students it will be most imperative to learn about the academic programs, for others the makeup of the student body. For some it may be as simple as the food on campus, the weather, and how you select roommates. Think about this before you visit schools so you can cater your visit to your interests, and what is essential for you to learn. It's easy to become overwhelmed with how much information there is to learn about a particular school, so it will help to prioritize. Finally, if you forgot to ask that question, or there's something you have to circle back on…don't worry! Follow up with the Admission Office…that's what we're there for!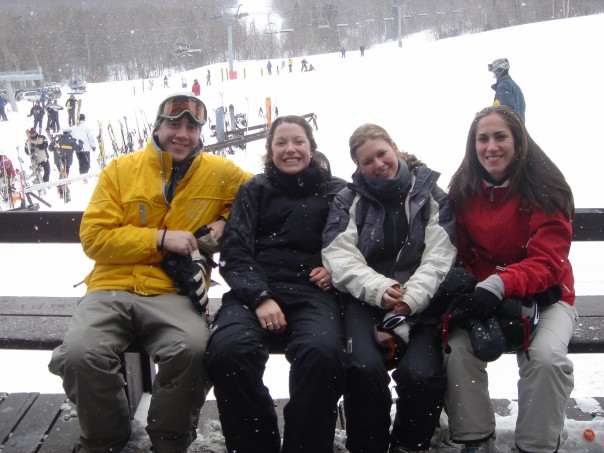 What advice do you have for college tour guides?
Part of what made my tour guide/AdvoCat program so impactful were my fellow AdvoCats. On some college campuses a tour guide program is just a job, or volunteer activity, but I found some of my closest friends through being a tour guide; I keep in touch with these people to this day. Learn about and appreciate what your peers bring to the table, and keep in touch with them long after you graduate. It will bring you much enjoyment years down the road to relive those stories in your conversations together.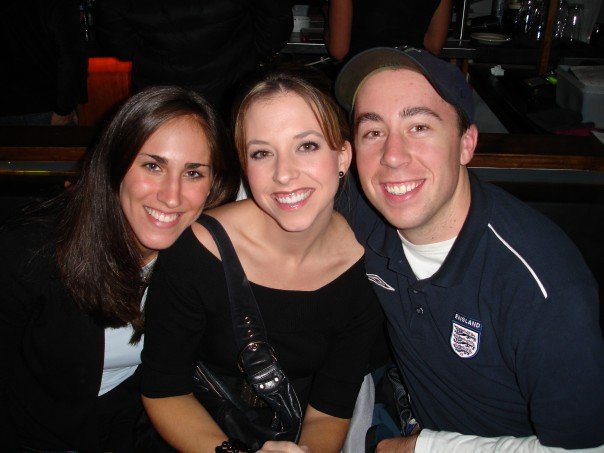 What makes you feel most alive?
Anyone can tell you that my whole life I have thrived while being active. In college in Vermont it was skiing and hiking. Since relocating down to Long Island it's become boating, fishing, waterskiing, cycling and yoga (among other things!). I feel most alive when I'm active, and really enjoy exploring new pursuits and interests.